15 Animal Stencils That Will Liven Up Your Child's Bedroom
Do you know what a "biophile" is? More or less, it's a fancy word for someone who has a special appreciation for the living world beyond humanity. In simpler terms, we could say: It describes every child in the world. There's something about those early years – kids are inevitably attracted to the twists and turns of the animal kingdom. For some, it's a lifelong passion that translates into a career. For others, it's merely a passing phase in their youth. In both cases, however, it is a love that parents should want to encourage and play into. That may mean getting a pet. It may mean taking frequent trips to the nearest zoo. But, with the help of the right stencils, it can simply mean decorating their room with the sights and sounds of the wild.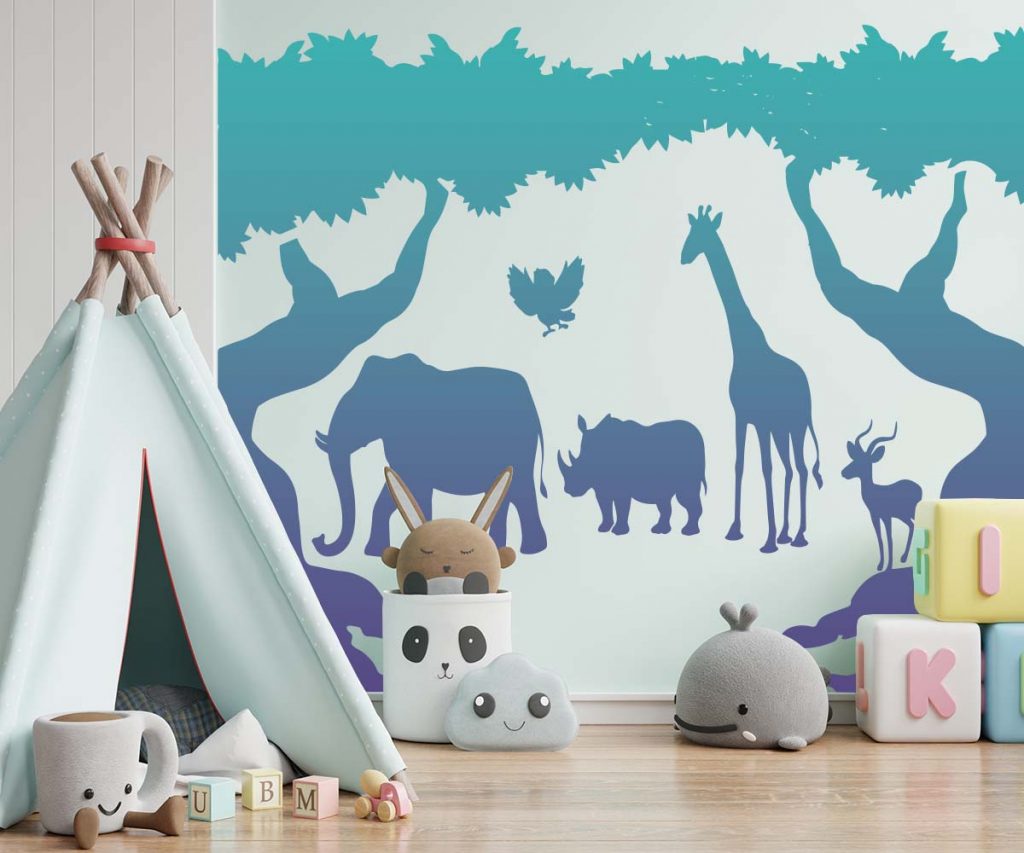 Decorating your child's bedroom with wilderness wallpaper or filling up the room with a menagerie of plush stuffed animals is a likely – but potentially expensive – way to introduce that touch of the jungle to their living quarters. Unfortunately, the expense and the potential for turning the project into an unsightly mess make this a disagreeable undertaking for many parents. Especially the expense! Have you priced wallpaper lately? And since you know it's probably that your child will outgrow the decorative scheme by the time he or she hits their teens, does it make sense to invest such an amount of money into a temporary setting?
Thankfully, stencils bypass the expense and retain all of the fun and wonder of an animal-decorated bedroom. With nothing more complicated than some good stencils and the paint of your choice (and perhaps some tape to mask off the parts of the wall you don't want to paint), you can achieve a look that is every bit as special and lovely as what you would have gotten out of the best wallpaper on the market. Plus, take it from us: It's a lot more fun to do!
If you're not sure where to begin, read on for the top 15 animal stencils to liven up your child's bedroom!
One of the most common animals for children to become obsessed with, the elephant has made its mark on humanity in a big way. The largest land creature on the planet is unusual in its shape, relatively passive in comparison to its dominating size, and adorably cute as a baby. Elephants are, of course, known for their terrific memories, which is actually just one of many areas in which these creatures show an extraordinary gift for intelligence. Sadly, poaching and other activities have left many species of elephants in jeopardy, so it's more important than ever to instill a love for them in the next generation. With this Elephant Stencil, that won't be any trouble at all.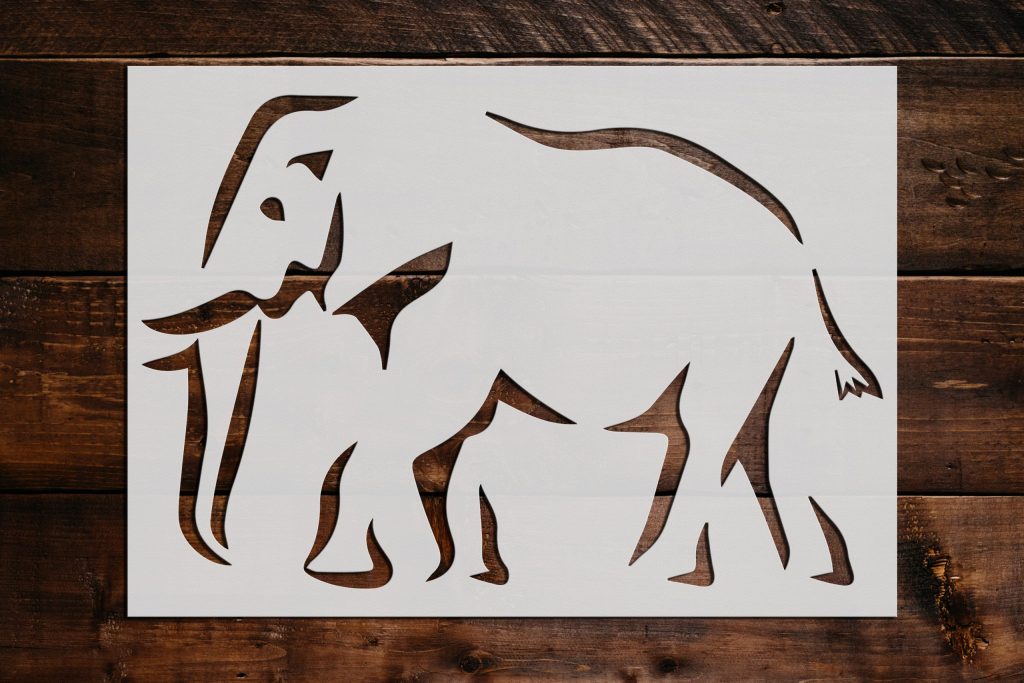 It's one thing to decorate a child's room (or furniture) with a bear stencil; it's a whole 'nother ballgame when you add a mountain vista in the background. Well, why not get a stencil that includes the best of both worlds? More than any other stencil, this particular one puts the animal in its natural habitat, which makes it all the more realistic for an imaginative child. One look at this stencil can bring up mental images of crisp, beautiful mornings, salmon rushing upstream, and enormous, lumbering bears feeding on the best the wild has to offer. Any child with an affinity for animals will love staring at this design as they lie on their beds and daydream.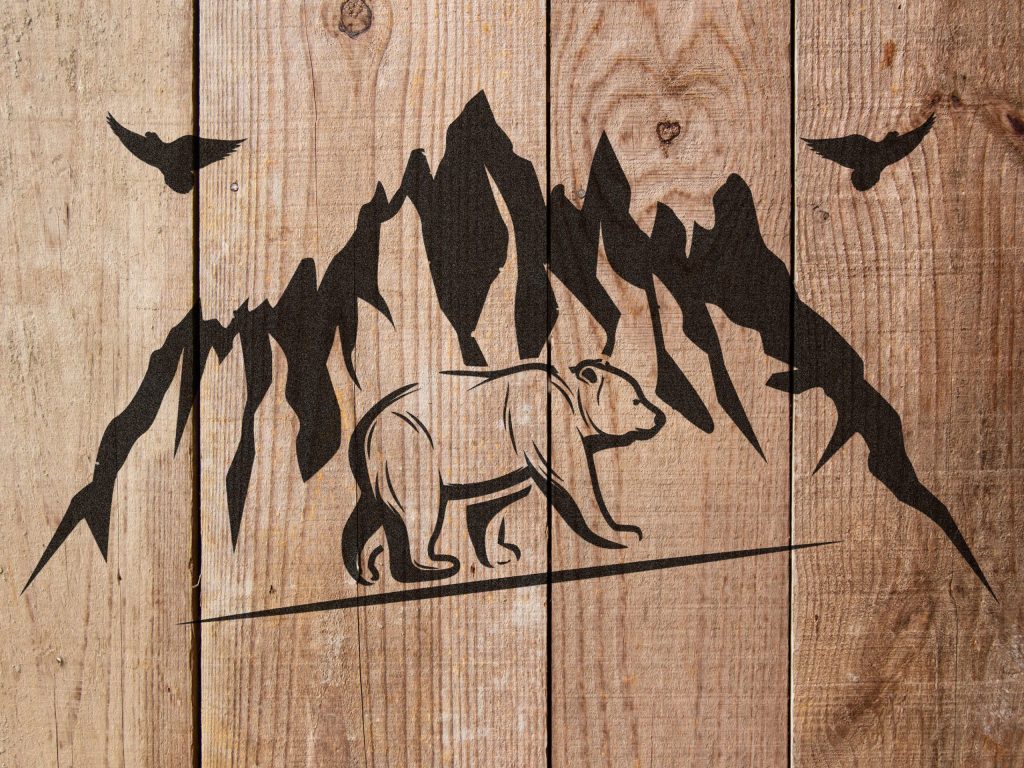 If we've learned nothing over the last decade or so, we've certainly learned that children (if not all Americans) have a special affinity with superheroes. How does this pertain to animal stencils for your child's bedroom? Well, you have to think of it from the perspective of a child. To them, many animals have what we would call superpowers if we were to run across a human who possesses these traits. Indeed, household heroes like Spider-Man and Ant-Man make the connection explicit. Of course, there is no power more exciting than that of flight, and birds are the most recognizable examples of that power in real life. This Bird on a Branch Stencil will have your child's imagination soaring.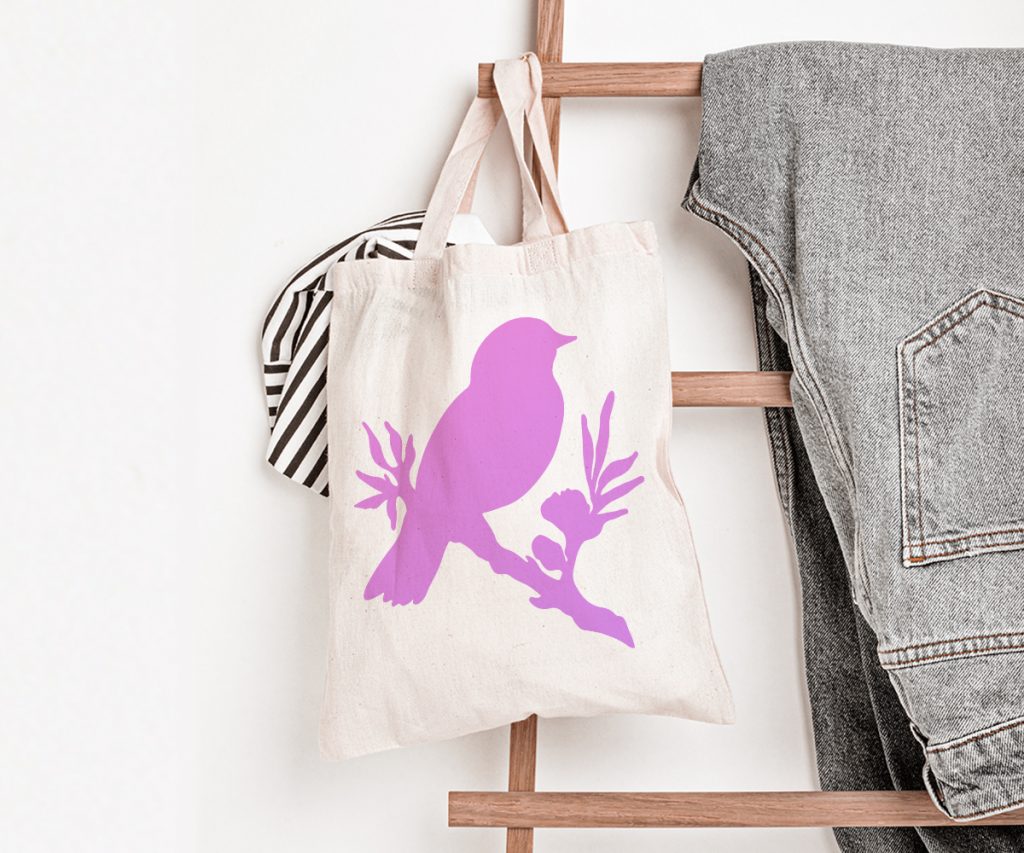 What kind of strange creatures are these? Unless you happened to grow up in Florida, Georgia, or Louisiana, chances are that you're not all that familiar with the mighty alligator. Sure, you've seen them in TV shows and perhaps you've gotten acquainted with them at zoological parks, but you certainly don't expect to see them while strolling around a local lake. As fascinated as you are by these living relics from the dinosaur age, your children are likely even more entranced by these peculiar and ferocious reptiles. Tap into that wonder with an Alligator Stencil. Perfect for the walls of any child's room, this stencil is a great way to liven up a living space.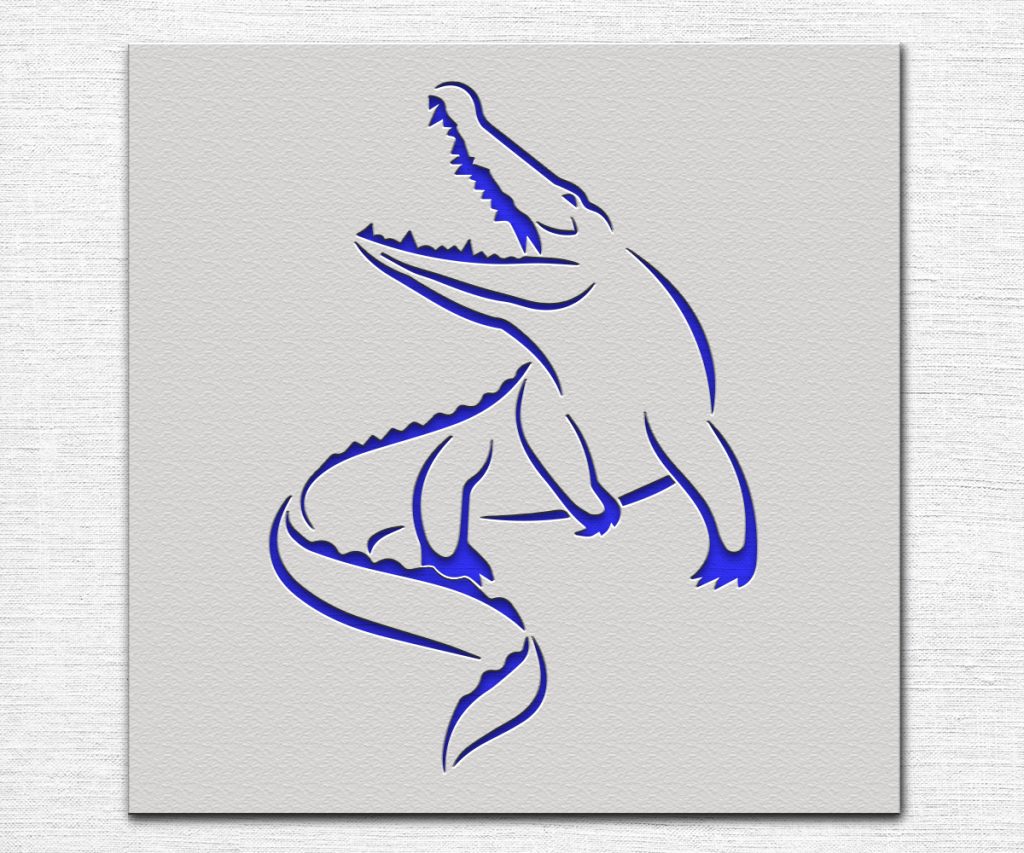 This remarkable stencil pays homage to many a child's favorite animal: The horse! With an adult horse in the foreground and its young (presumably) standing a bit behind, this stencil conveys themes of family, brotherhood, companionship, and wild affection in a way few designs can. What better messages could you send to your young child? Kids are naturally drawn to horses – especially young girls. If you have a kid who dreams of one day growing up to be a cowboy or an equestrian, this stencil is a nice way to foster their interest without spending hundreds of thousands of dollars on your own horse. You don't even have to feed it!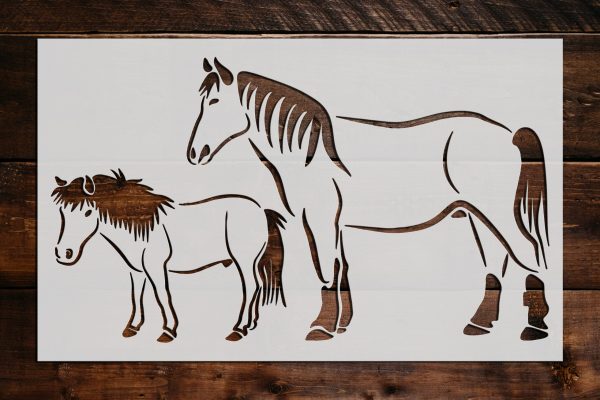 You probably don't need us to tell you about the special bond between man and dog. Perhaps the only thing we should mention is that, regardless of the nickname we've bestowed upon dogs, they aren't just "man's" best friend; they can easily become the best friend of a child. In fact, we know many people who count their family dogs as their best friends growing up. If you have a dog that is a cherished member of the family, pay tribute to it with this Dog Stencil! While the design looks somewhat beagle-ish, it can be used to symbolize "the dog" as a concept, quite apart from the one that lives with you. Of course, if you do have a beagle, this one is a no-brainer!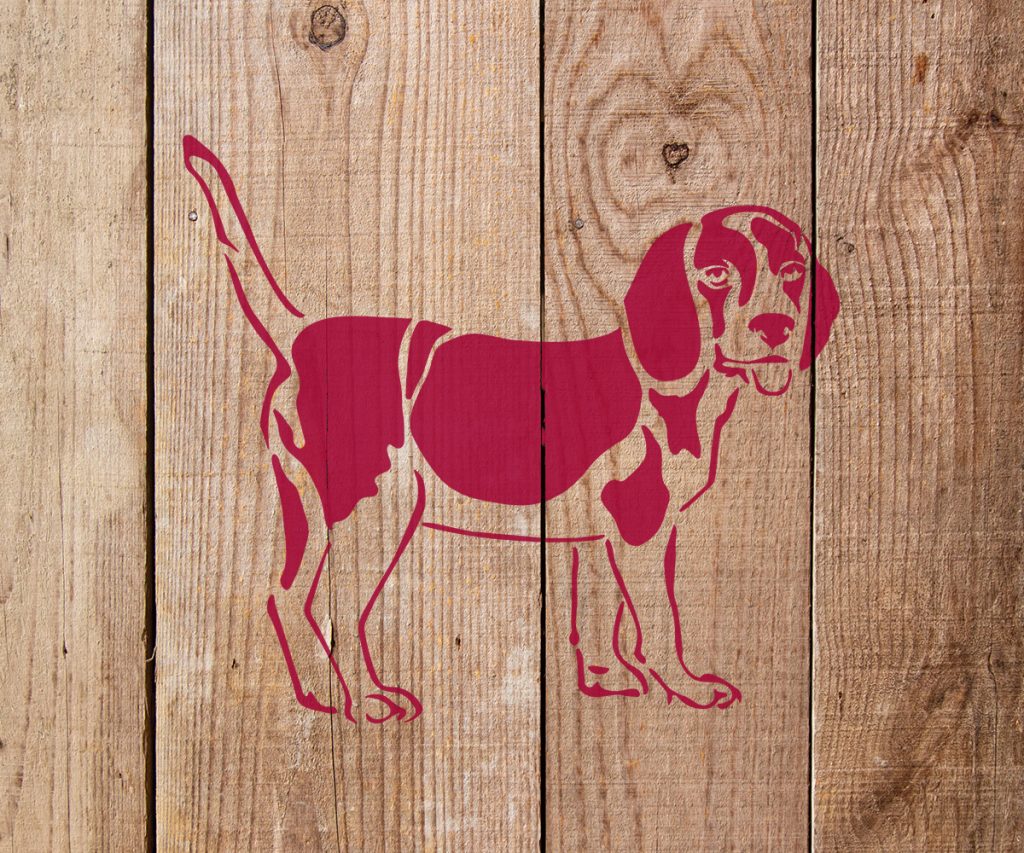 Do you want to invoke the spirit of Africa in your child's bedroom? Nothing conveys that theme better than this Giraffe Stencil. Capturing the stately visage of a peaceful giraffe, this stencil is a window into the savannahs where these extraordinary animals live their lives. All animals are unusual in their own ways, but some are a bit more unusual than others. Children are fascinated with the giraffe due to its wonderfully bizarre appearance, which includes a neck that stretches straight up into the treetops. Maybe giraffes are beloved because of this feature, which bears a resemblance to paintings of the brontosaurus. Or maybe it's just their curious faces, which always seem implacable and calm. Whatever the case may be, this stencil makes for an excellent wall design.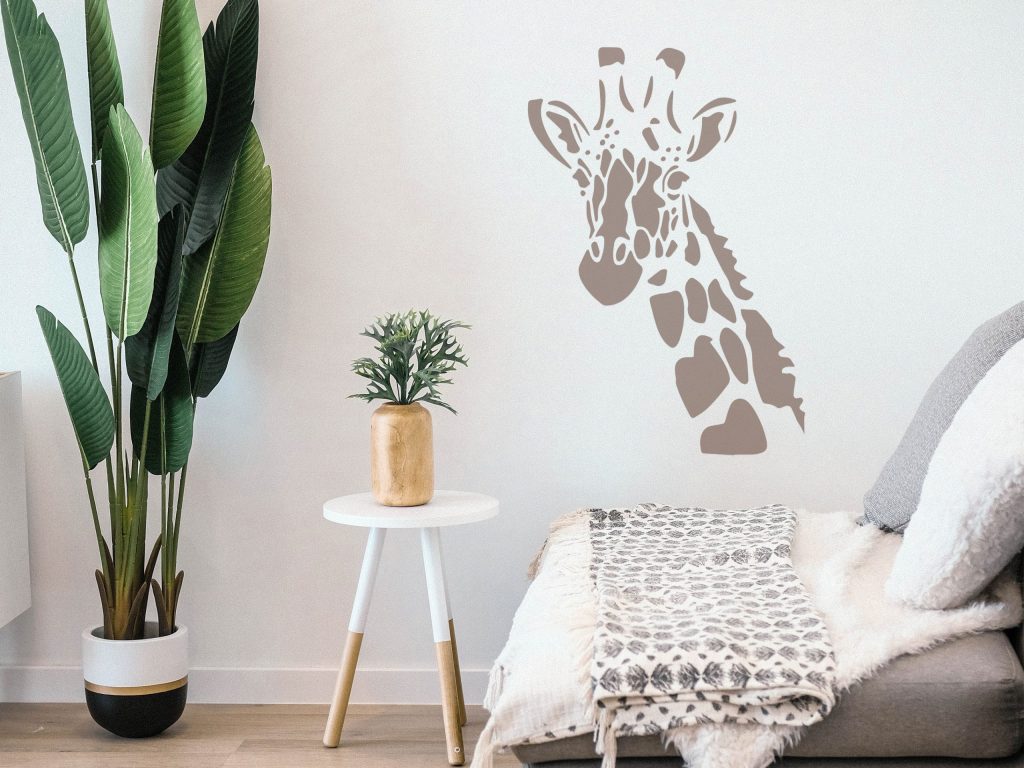 Awww! What else can you say about this stencil, which depicts a panda and her baby resting playfully next to a thatch of bamboo, the panda's primary food source? According to some zoo experts, people are fascinated by the panda because these unique bears remind them of…themselves! The way they eat sitting straight upright with the help of their thumbs is very reminiscent to the behavior you expect from a human or another member of the primate family. Make no mistake, though; these animals are all bear. If your young one has an affinity for these black-and-white bears, this Panda and Baby Stencil will be a treasured addition to the walls.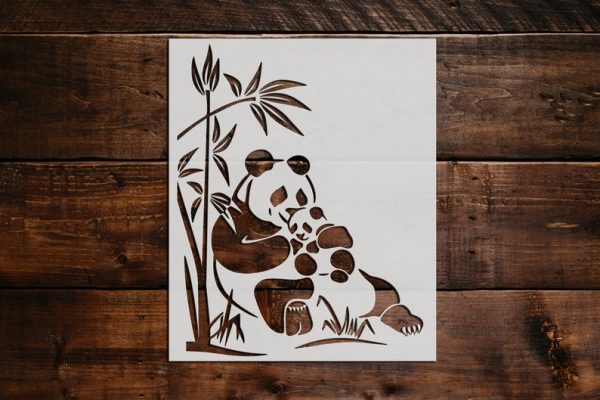 Footprint stencils are among the top-selling items at Stencil Giant, and that goes double for prints of animals. This Cat Paws stencil is a perfect example of what we're talking about. What makes these designs so compelling? We think it comes down to two things. One, there's a striking accuracy to these stencils. You look at them and you don't think, "Oh, it's a picture of a cat." You think, "Wow, it's like a cat climbed up your wall. And a big one at that!" Two, there's something mysterious about paw print stencils; it's like something extraordinary happened just before you came on the scene. Your child may not know why, exactly, they love this Cat Paws design, but they'll love it all the same.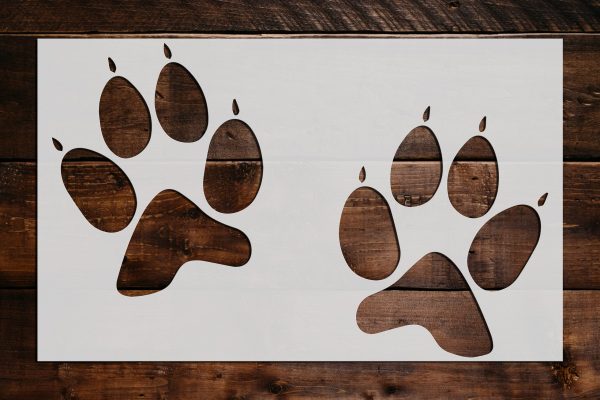 It's not unusual for a child to decide that he or she loves monkeys more than all of the other animals they've discovered. We hardly have to explain why. Spend a few moments with one of these amazing creatures, and you'll have a better explanation than we could ever hope to give you. Even watching them interact in nature documentaries is enough to show how similar monkeys are to human beings. Indeed, an adult monkey has similar levels of intelligence to a young child. Perhaps that alone is enough to explain the human-monkey affinity. This Two Monkeys stencil not only showcases the pride of the jungle, it celebrates friendship!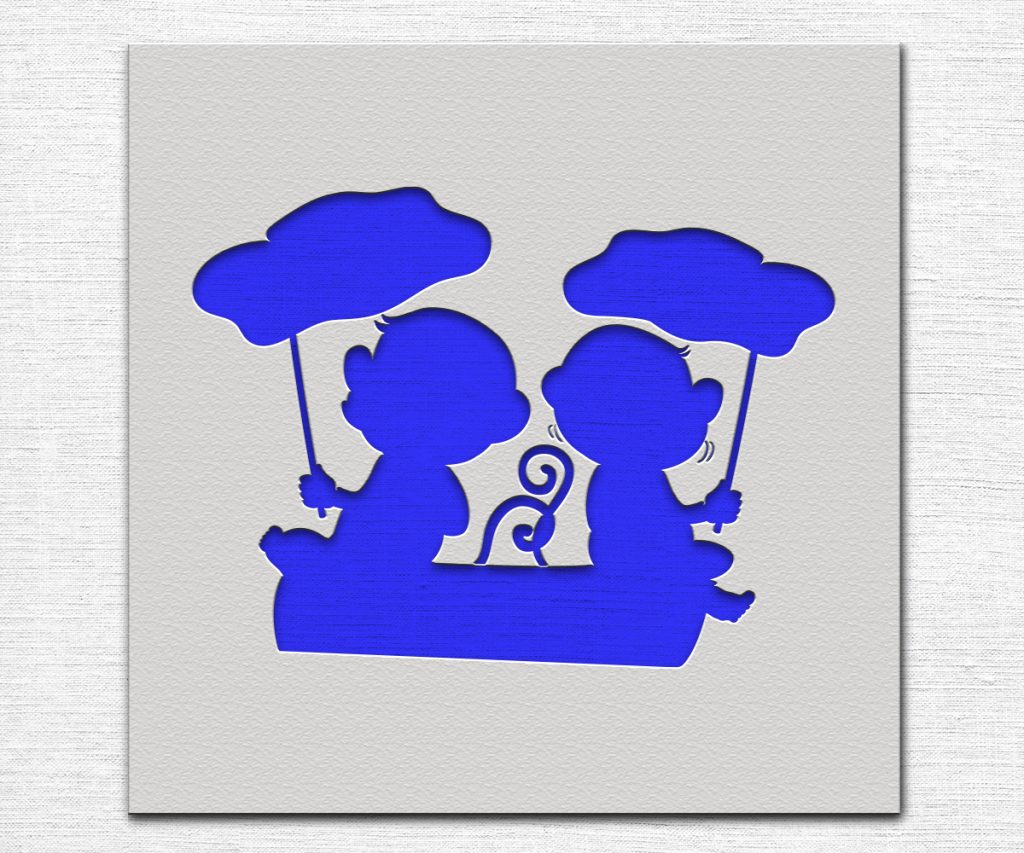 Foxes may be distant relatives to our modern domestic dogs, but we've always found that they more closely resemble cats than dogs. Slick, wily, and agile, foxes live tumultuous (and often short) lives out in the wild. But while it isn't usually a good idea to bring a fox into the home as a pet – no matter how much your child begs – you can always paint one onto the wall. Or, if you're feeling ambitious, you can cover the child's entire room with this design! Can there be such a thing as TOO MUCH fox? We think not.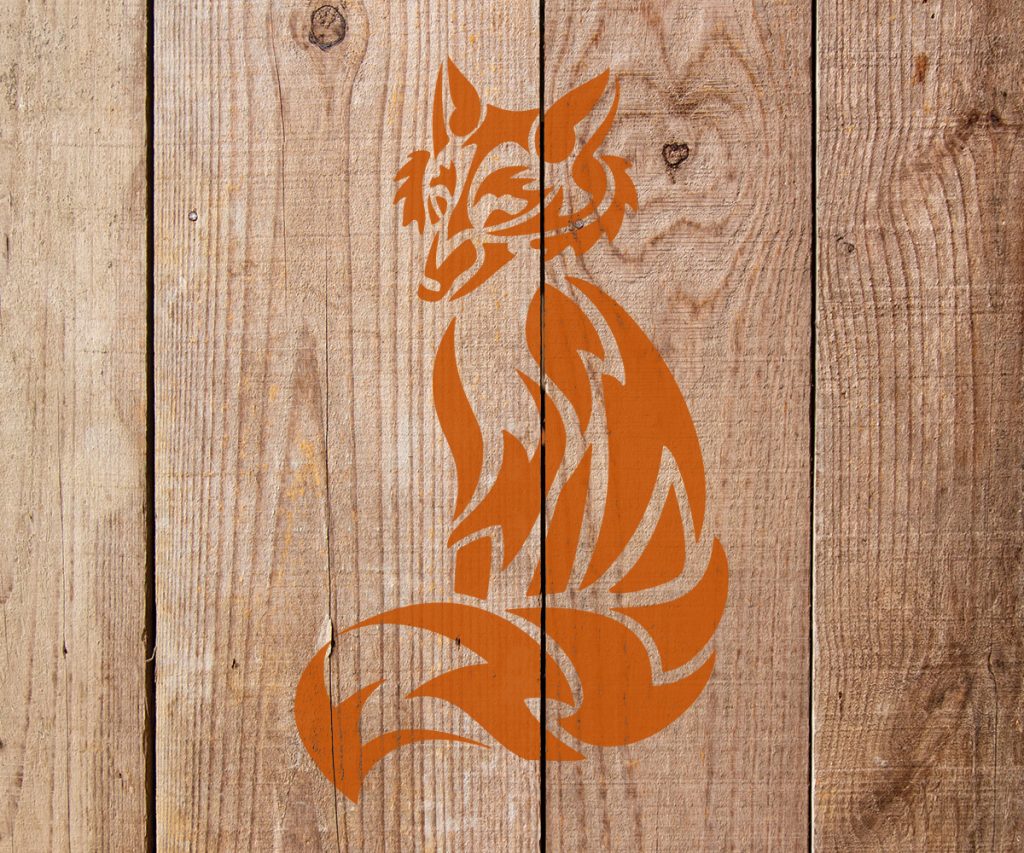 From Charlotte's Web to Peppa Pig, children have been fascinated with literary depictions of pigs for decades, if not longer. Perhaps much longer, if we take into account the old story about the Three Little Pigs. This Pig Stencil represents all of that media history while accurately depicting a true-life pig. If your child has a special love for these animals of the sty, they will fall head-over-heels for this adorable stencil. Just don't make any bacon jokes!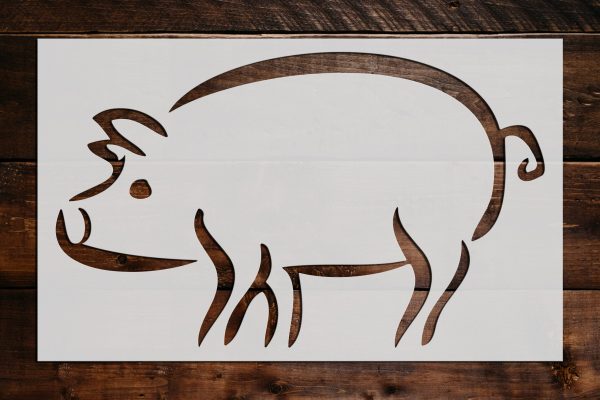 Toddlers and penguins have at least one thing in common: They are both adorably wobbly as they walk to their chosen destination. The penguin may be a bit more surefooted in its waddle than a toddler, but those are meaningless distinctions to one so young. All he knows is that he can't get enough of these frozen-weather birds. It's not feasible to introduce a live penguin into your home unless you happen to live in Antarctica, but you can always use this Penguin Stencil to capture just a bit of that snowy magic.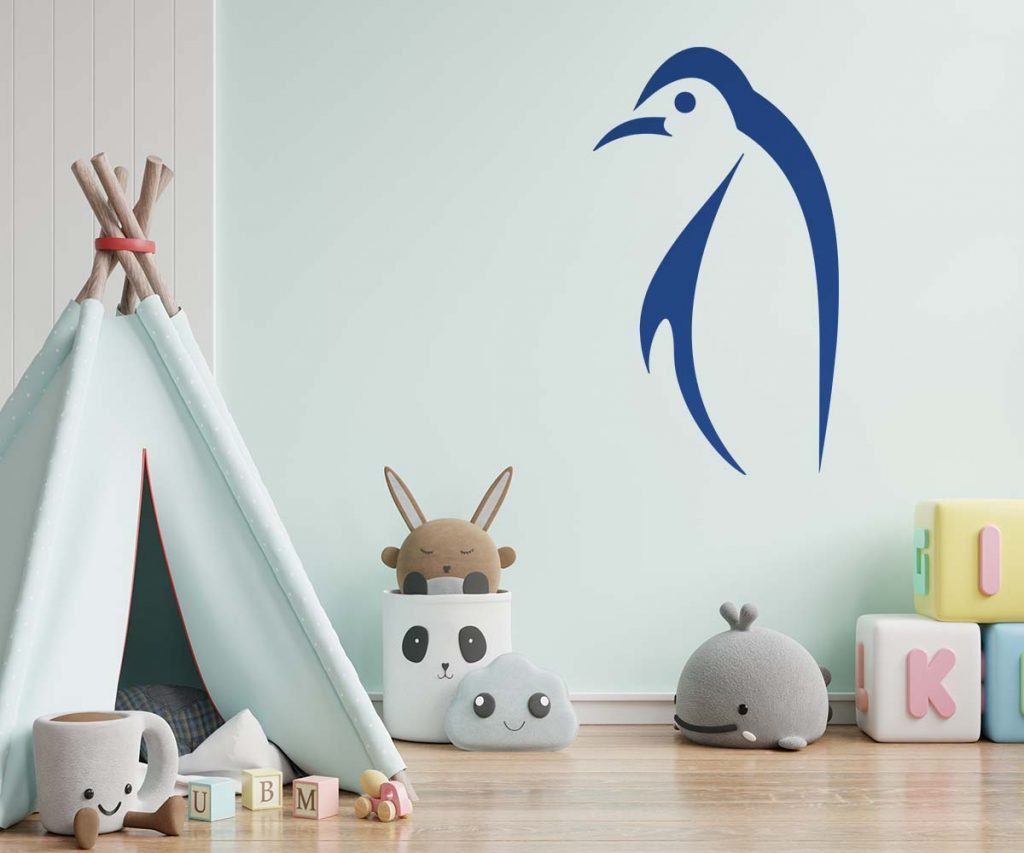 There's a reason L. Frank Baum chose to make his cowardly animal a lion. What better way to make a point, even to the youngest of children! It's absurd, even to the very young, that a giant lion would ever be afraid of a thing, much less the harmless trio he comes across in The Wizard of Oz. A lion is practically synonymous with courage, and that's something that your child has almost certainly picked up on. If bravery is a trait you'd like to cultivate in your young one, why not decorate their room with the very emblem of courage? This Lion Stencil gives you a simple way to do just that!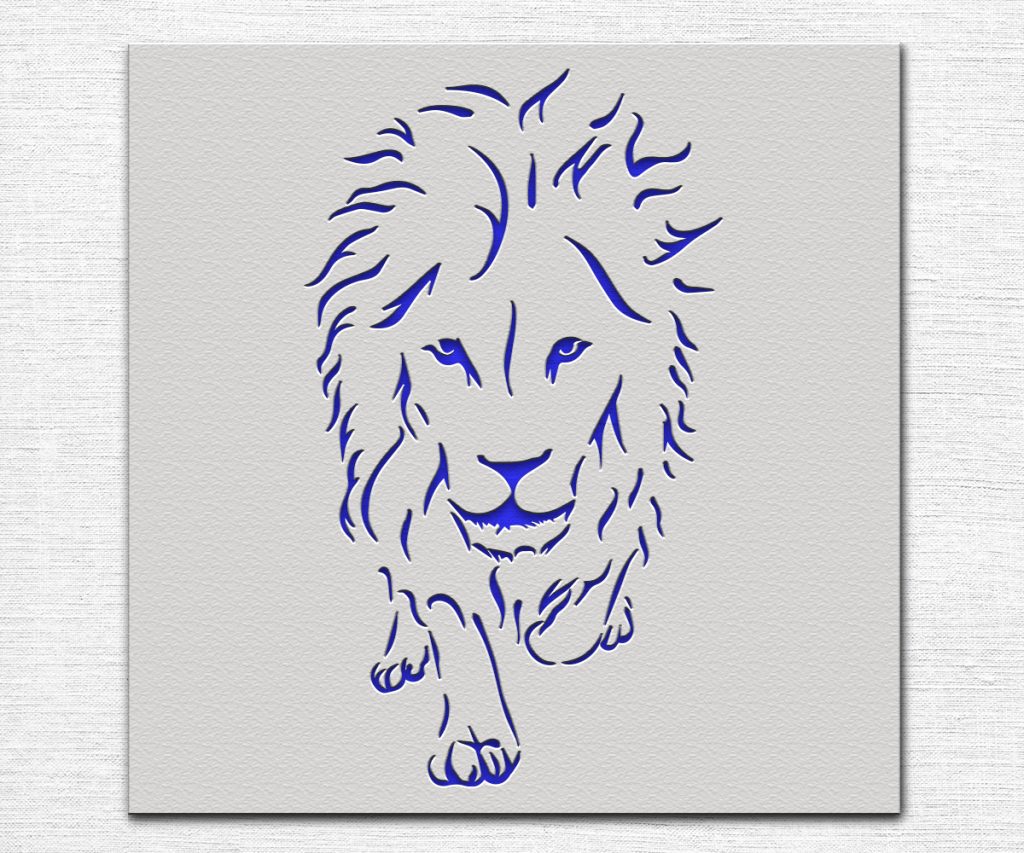 Maybe you think that you can't properly capture your child's love of animals by choosing a particular stencil. If that's the case, you can always combine the stencils above into a mural that spans the entire length of a wall. Or, if you'd like something a bit more self-contained, you can go with this Zoo Animals Stencil. Giraffes, elephants, eagles, rhinos? These are the animals kids dream about when they look out their windows and put their imaginations to work. Now you can foster that imaginative spirit without any artistic talent at all. This Zoo Animals Stencil is easy-to-use, and it will produce a beautiful image every time out. We'd go on, but you have some redecorating to do – good luck!