The 17 Stencils You Need to Take Your Crafts To The Next Level
The 17 Stencils You Need to Take Your Crafts To The Next Level
Alongside products like Mod Podge, pipe cleaners, and beads, stencils are essential tools for any crafter, amateur or professional. Whether you're looking for crafts that will engage your kids or projects you can take on to relieve stress and return some joy to your life, stencils can provide you with the vehicle you need to succeed! While the use of stencils can help even artistically challenged individuals achieve a measure of beauty in their art, don't get the wrong idea: These indispensable tools are not about stealing away your originality or creativity. Far from it. Indeed, with the number of unique and wonderful stencils sold at Stencil Giant, the only limit to your crafting success IS your own creativity! Used in the right way, these stencils will enhance your next crafting project and take your works of art to a whole new level.
Fun Ways You Can Use Stencils in Your Crafts
Before we get to the main event – the stencils you need to take your crafts to the next level – we thought we'd take a moment and share some of our favorite crafting ideas. You don't have to go and do any of these projects specifically, but please feel free to use them as an inspirational starting place if you need some help unlocking your inner crafter.
Style Your Garden – Stencils can be used to paint fences, add decorative touches to watering cans, and even spruce up your plant containers for a fun and crafty garden.
Design Your Clothes – Why settle for a boring white t-shirt, when you can use the power of stenciling to add designs that bring your clothing to life?
Remake Your Furniture – Do you have an old dining table that you don't love, aesthetically? Stencils are your ticket to newly-styled furniture as unique and quirky as you are.
Add Festivity to Your Cake Holders – With stencils, you can turn anything – even a cake dome – into an occasion for creativity. Turn to festive seasonal stencils for even more inspiration!
Create a Work of Art – You don't need to have an existing object to use stencils to their maximum potential. Many artists start with nothing more complicated than a blank canvas, and they use stencils as a base from which to create an original work of art.
This is only the tiniest sampling of crafts you can create with the help of stencils. A brief trip through Pinterest and other image sites will be enough to give you years' worth of inspiration, if you still feel like you need some. Alternatively, you can look at the many excellent crafting stencils in our list and draw inspiration from there. Remember: You don't have to dream up your perfect crafting project to get started! Pick something, try it out, and let the movement and flow take you out of your head and into the joy of creativity. That's where the magic happens, and that's where the muse likes to hide. Go find her, and use these BLHDD stencils to manifest her ideas.
The 17 Stencils You Need For Crafting Excellence
#17 – Food Stencils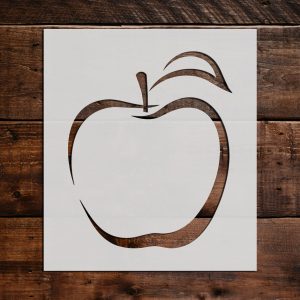 You don't have to be a professional chef to make food-centric crafts. Some of the most beautiful kitchen crafts we've ever seen came from people who would struggle to make a peanut butter sandwich. The key to fun and engaging crafts is to let go of concepts like "oh, I'm not really into that" or "I'm not good at that." Get rid of all those old quotes running around in your head; they only prevent you from digging into a fun craft and seeing how enjoyable it can be. With food stencils representing freshly-carved turkey, various delectable fruits, French fries, and much more, you can create crafts that put you in the mood for food – even if you have no interest in cooking it yourself!
#16 – Music Stencils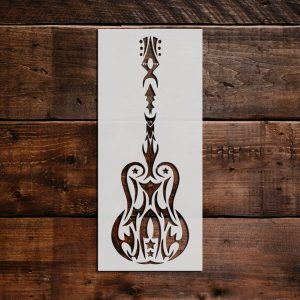 Our favorite kinds of stencils are those that aren't just related to crafting, but are rather avenues through which you can express support or love for another wonderful facet of human life. For the perfect example, consider music stencils. What could you do with a drum stencil or one depicting a set of headphones? These stencils may be silent, but you can use them to suggest the presence of melody, rhythm, and all the rest of what makes music so beautiful. One of our recent customers was a high school music teacher who used these stencils to completely redecorate her room; what could YOU do with these musical designs?
#15 – Holiday Stencils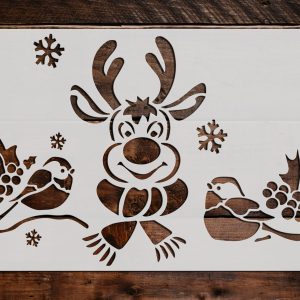 Don't get us wrong – we enjoy commercially designed holiday decorations as much as anyone. One of our friends actually collects new Christmas ornaments from one of the big box stores, and it is a stunning collection to behold. That said, there's something extra special about holiday decorations that come from the heart. But how to make those decorations if you aren't artistically inclined? Well, that's where holiday stencils come in! With stencils depicting Christmas trees, Easter bunnies, four-leaf clovers, scary ghosts, and more, you can design crafts that you would never be able to find at your local retailer – and have a blast doing it.
#14 – Flower Stencils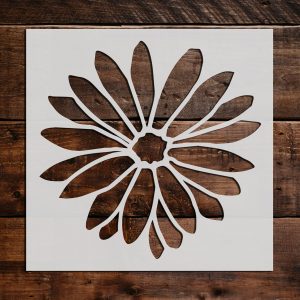 Is there any craft (or any work of art, for that matter) that isn't improved by the addition of a beautiful red rose? By the adornment of a classic lily? Artists have been painting flowers since the invention of the brush, and it's no wonder why. Flowers are nature's most delicate organisms, stirring in us feelings of love, peace, and joy. They have been used throughout the centuries to symbolize some of the values we hold most sacred: Romance, family, remembrance, religion, and more. And let's face it, they are simply beautiful for their own sake! A gardening-type craft would obviously be the right place for these flower stencils, but we can't really think of a project where they wouldn't be a perfect fit, to be honest.
#13 – Animal Stencils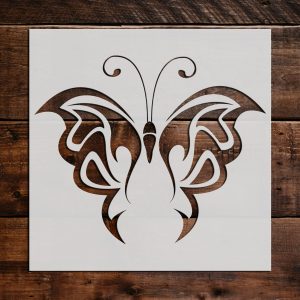 Whether you're looking for crafts you can do with your kids or you just love the many creatures who populate the world, animal stencils can be a huge boost to your creative output. Cats! Foxes! Birds! Bears! With these stencils, you can turn any craft into a veritable zoo – with far less cleanup and no unpleasant barnyard odor. We've seen animal stencils used to great effect in the creation of homemade greeting cards, but you can also use them to paint flowing forest murals right on the wall in your child's bedroom. Let your inner spirit animal guide you to crafting success with these remarkable designs!
#12 – Fantasy Stencils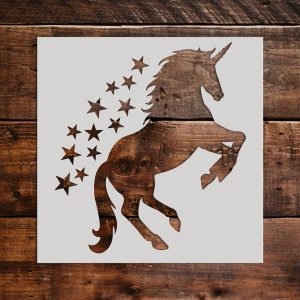 With Dune, Game of Thrones, and other sword-and-sorcery epics dominating Hollywood, it's only natural that you might be inclined to create crafts with a fantasy theme. Now you can use intricate fairy designs, imposing dragons, and magical unicorns to decorate anything from a sword handle to a painting frock. Life would be dull indeed without the spark of imagination, and fantasy has a way of spotlighting imagination in a way that few other genres can manage. Unfortunately, you have to be a very good artist to render one of these other-worldly beasts so that it looks like the picture in your head. With these stencils, though, you can let your imagination soar just as high as the Mother of Dragons herself!
#11 – Outdoor Activity Stencils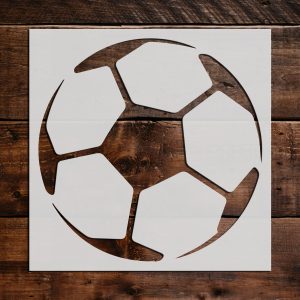 It's probably different for everyone, but we'll always associate the warmer weather of summer with our favorite outdoor activities. Granted, it can sometimes get brutally hot outside, but it still reminds us of those endless summer days we had as kids, playing outside until dusk (or until our moms called for us from the front porch). Wouldn't it be great to put a touch of that magic into your next craft? With these stencils, you can do just that. From stencils representing skateboarding to stencils depicting footballs and other sports equipment, you'll have everything you need to make a tribute to your favorite outdoor activities.
#10 – Heart Stencils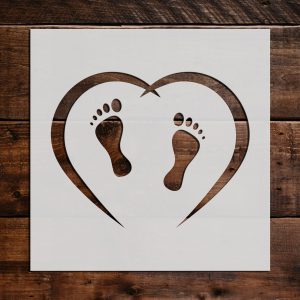 Even if Valentine's Day is not due for months, there's no limit to when (or how) you can use heart stencils to create crafts that stand for the one thing that really matters in this world: Love. We talked a little about t-shirt design earlier, and we can hardly think of a better stencil to use on a shirt than one that signifies romance, the love that blossoms in a cherished friendship, or the unconditional love one has for their family. Now you may be asking – what's so difficult about painting a heart symbol? Why would I need a stencil? We would encourage you to look at our collection of heart stencils to see the many intricate and artistic designs – few of which could be accomplished by an unskilled painter. Could they add charm and grace to your next craft? Only one way to find out!
#9 – Sea Life Stencils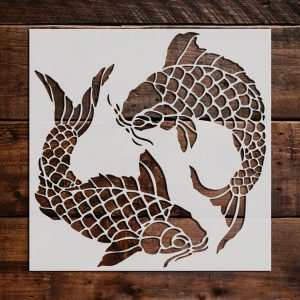 Scientists say that all animal life started in the sea, and is it any surprise? There's always been something about the vast ocean that has drawn humans in like the grandest fantasies of our imagination. Examining sea life takes you into another world; it really is sometimes like studying species from another planet! And yet, there is a soothing quality to the ocean, is there not? Perhaps it is some still, inner reminder that this is all familiar? We can't say for sure, but we do know it is a lot of fun to use fish stencils to create art. With dolphins, crabs, fish, sharks, and other magnificent designs, you can finally bring the wonders of the sea home to you!
#8 – Baby Stencils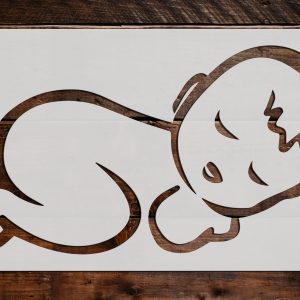 No, these stencils aren't waiting to grow into adult, mortgage-paying stencils with kids and jobs. These stencils depict babies in all of their innocent glory. We probably don't even need to tell you about the many crafts you can make with these, but we'll just cover a few of the basics: Decorating a nursery, adding warmth to a diaper-changing station, customizing your own pair of footie pajamas, and so forth. Having a baby is one of the most precious things you can do in this life, and these baby stencils will help you channel that magic into a special project that is all yours.
#7 – Structure/Building Stencils
We've spent a lot of time here waxing on about the beauty of the natural world, and we're firm believers that humans will never create anything that matches the simple beauty of a natural canyon or the mind-boggling complexity of even the least-evolved animal. That said, there IS something terrific about the greatest inventions and creations of humankind. The skyscraper, for instance, is a wonder of architecture, technology, and labor – a true testament to the ingenuity and genius of our species. If you're creating a craft meant to symbolize urban living or the wonders of modern-day civilization, these structure and building stencils can help you make it great.
#6 – Landscape Stencils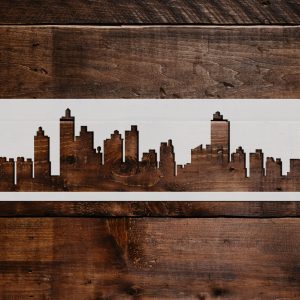 By incorporating landscape designs into our crafts, we're taking the beauty of natural and historical forms and co-opting their timeless energy for a new purpose. This is where creativity can really take off and lead you into novel and extraordinary directions. Landscape stencils could include a depiction of a hot air balloon, lazily drifting over a serene mountaintop. Or an Egyptian camel, standing in the shadow of a mighty pyramid. These stencils have the unique power to invoke other cultures, other times, and other places, all of which can add an exotic and mysterious component to your craft.
#5 – Nautical Stencils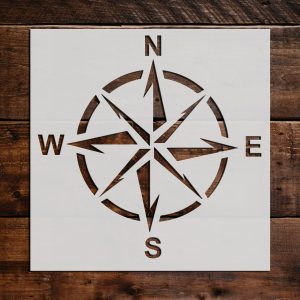 There is some degree of overlap between nautical stencils and the sea life stencils we mentioned earlier, but they remain two distinct categories. For us, at least, sea life stencils suggest the kind of whimsy and direct appreciation for all of the magnificent organisms that take up residence in the planet's deep blue oceans. Nautical stencils, on the other hand, point to man's seaward explorations and the stunning progress we've made over the last 500 years or so. From a simple compass stencil to a sailing ship design, these images will imbue any crafting project with the sights (and maybe even the sounds) of a maritime expedition.
#4 – Tropical Stencils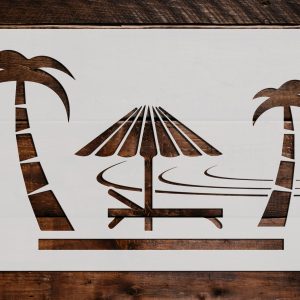 Are you planning a luau? Are you trying to get into the summer vacation spirit with some new crafting projects? Tropical stencils are an excellent complement to your goals. With stencils depicting coconut drinks, tropical flora, ocean waves, and palm trees, you can create your own island getaway without ever leaving the comfort of your living room. Sure, we'd all love to pack up and take the next plane to Tahiti, but that just isn't in the cards for most of us. In the meantime, we can bring a bit of Tahiti home to us using the imaginative artwork of tropical stencils…and just a bit of our own imagination.
#3 – Science Stencils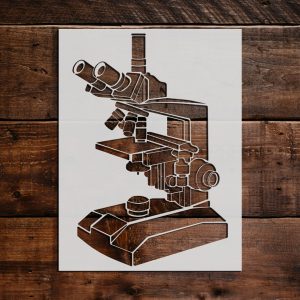 Science stencils can come in handy for a variety of purposes. For instance, one of our favorite things to do as kids was to take full advantage of the school's mandate that we all had to cover our books with brown paper book jackets. How fun was it to decorate those book jackets in any way we deemed appropriate? Well, today's kids can have the same fun, and they can take it to the next level. What would go better with a science text than, say, a picture-perfect drawing of a microscope on the front? What would match better with an astronomy class than a professional-looking depiction of the solar system? All of this and more is waiting for you in the science stencils category!
#2 – Star Stencils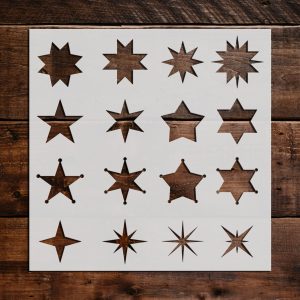 Throughout the ages, humanity has used images of stars as powerful symbols of unity, exploration, religious faith, and much more. Flags representing everything from Islam to Communism to the United States have incorporated stars into their designs. And this doesn't even get into the meaningful role that stars play in Judaism, Christianity, and so many of our other culturally treasured institutions. Because stars have been used in so many different ways, there's an excellent chance you can find a purpose for them in your next craft. Even if it's for no other reason than to invoke the incomprehensible vastness of space itself, use star stencils to add depth to your project.
#1 – Letter Stencils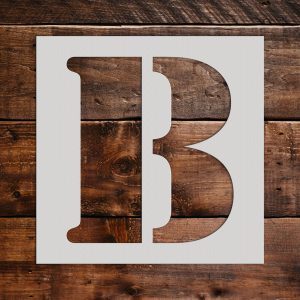 Letter stencils are, arguably, the very foundation upon which stencil crafting is built. Have you ever looked at the sheer number of quotes, messages, and sayings that are being sold in stores? It's practically a genre unto itself! But no matter how much you may identify with something you see in Hobby Lobby, it's already a step removed from your own heart, your own mind. With letter stencils, you don't have to wait for some commercial artist to say just the right thing – you can say it yourself in perfect artistic freedom. The next quote you hang on the wall can come straight from your paintbrush. Isn't that exciting?